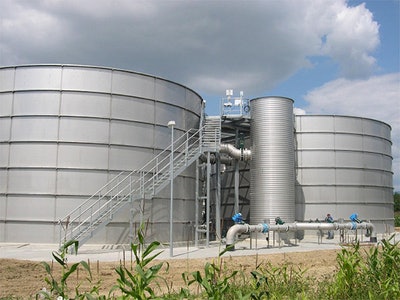 Stallkamp offers its Stainless Steel Tank created in a segment-like design from profile reinforced stainless steel shell plates on a concrete base plate. The plates are slotted together at the horizontal joints and bolted together with the intermediate profiles. At the vertical joints, the shell plates overlap and are joined using internally developed screw connections.
The upper tank edge is constructed from an extra-rigid edge profile. The shell plates are joined together and sealed with the concrete slab using a manure and waste water-proof special sealant. The connection of the tank wall to the base plate is made by a circular stainless steel floor bracket, which is fastened with bolt anchors.
It can be used for: slurry tanks, agriculture, biogas systems, wastewater treatment plants, industrial systems, breweries, food and beverage manufacturers, wood and paper editors, and meatpacking. Its dimensions may vary depending on the costumer's needs.