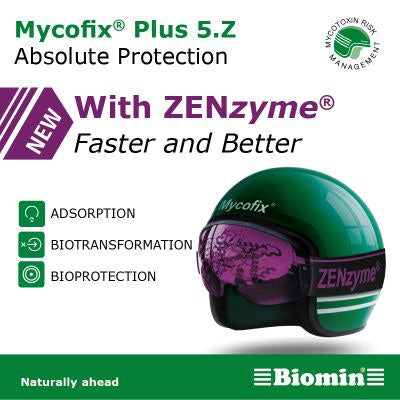 Biomin has launched its newest mycotoxin risk management solution, Mycofix Plus 5.Z with ZENzyme, in select markets across the Asia-Pacific region.
Mycofix Plus 5.Z with ZENzyme is an innovative, all-in-one feed additive providing next-generation mycotoxin risk management for breeding animals and their offspring. ​
ZENzyme is the first and only purified enzyme that degrades zearalenone (ZEN) fast, specifically and irreversibly into non-toxic and non-estrogenic metabolites. ​
Because binders are not sufficient against zearalenone, other techniques are needed. That is why Biomin has pioneered the field of mycotoxin mitigation using enzymatic biotransformation, beginning with the introduction of FUMzyme —the world's first-ever commercially available mycotoxin-deactivating enzyme that degrades fumonisins — in 2013.
Enzymatic biotransformation involves enzymes designed to specifically target a mycotoxin and detoxify the fungal metabolite irreversibly, thus protecting animals from potential harm. The Mycofix range of feed additives is the only mycotoxin solution on the market that includes purified mycotoxin-degrading enzymes, namely: FUMzyme and ZENzyme, as well as a mycotoxin-degrading microorganism, BBSH 797, for the degradation of trichothecene mycotoxins.