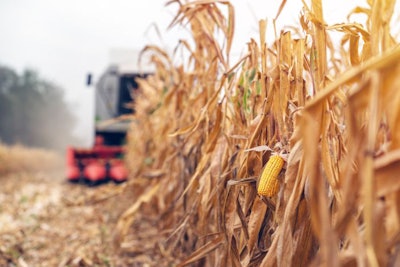 Hot, dry conditions have been a boon to soybeans, but corn yields are down, USDA report says
The first on-farm yield surveys suggest U.S. soybean production is still on track to set a new record, but hot conditions have produced uneven corn yields, according to the U.S. Department of Agriculture (USDA).
The agency cut this season's estimated corn yield by 1.6 bushels, but raised soybean yields by a half bushel to a record high of 51.9 bushels per acre. A final planted acreage survey, completed late this year due to soggy spring weather, confirmed suspicions that farmers were unable to realize their plans this year; acreage for both crops fell short of farmer's planting intentions. But while soybean production has overcome decreased acreage with improved yields, corn has proven less fortunate.
"At this point, it's trying to figure out what impact the weather had in the month of July," James Mintert, director of Purdue University's Center for Commercial Agriculture, said during a podcast last week. "One of the stories we keep picking up is how variable the rainfalls were — some places were inundated. Some look like a garden spot, while other places are not looking good. We're hearing lots of complaints about pollination impact."
The news of reduced corn availability, perhaps unsurprisingly, has triggered a rally in the corn futures markets, according to Nathan Thompson, an associate professor of agricultural economics at Purdue University. Corn prices dropped toward typical ranges for the season in July, he said, but this month have begun to rebound, picking up 13.5 cents per bushel the day of the USDA release.
The bigger surprise, Thompson said, is that soybean prices have followed similar trend in spite of the record forecast.
Even more surprising: Futures prices have increased in spite of what appears to be a large decrease in demand for soybeans from China, Global Ag Protein founder Emily French told the U.S. Soybean Export Council on August 14.
"I think we need to step back and appreciate where China is — and that is a decline in [soybean] crush that is greater than the U.S.-China trade war and [African swine fever]," French said. "That six-million-ton decline exceeds the five-million-ton [decline] in the 19-20 period."
The ongoing uncertainty about the rest of this year's weather and the situation in Ukraine, Thompson said, mean that corn prices at harvest could be as low as US$5.50 per bushel, or as high as US$7. Soybeans, he said, could drop as low as US$13.5 per bushel, or run as high as US$15.50.
"No matter how confident you about the direction of the market," Mintert said, "just realize there's a high probability you're going to be wrong."