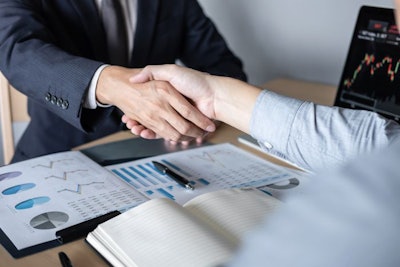 Company manufactures automatic feeders and sorting systems
WEDA Dammann & Westerkamp, the German specialist for pig husbandry, barn equipment, feeding and air conditioning technology, has taken over the Danish company W. Domino A/S. W. Domino A/S, based in Ølholm near Vejle, employs 23 people and specializes in the manufacture of automatic feeders, sorting systems and manure removal.
"With WEDA and W. Domino, two very experienced and modern companies are joining forces," said WEDA Managing Director Klemens Westerkamp.
Weda has been in existence for more than 80 years, has more than 50 years of experience in the agricultural business and is active worldwide. Domino has been in existence for 60 years and has so far mainly focused on the European market. Both companies have a large customer base and are respected players in the market for pig housing equipment and livestock automation.
"From the very beginning, we had a very positive and constructive negotiation process with Weda. Now both partners are equally looking forward to the cooperation," said Managing Director Allan Trøjborg and Chief Financial Officer Judith Domino of W. Domino A/S in a joint statement.
Trøjborg will continue his position in the management of the company, while Volker Schönig will join W. Domino A/S as Managing Director. Domino will continue as CFO.
The cooperation will result in many benefits and synergies for all parties involved, for example in product development, the portfolio, sales territories and production.
"We have known W. Domino for many years and have always seen the Danes as a company with quality products. Already during the first contacts, a positive mood for a possible acquisition became apparent. Now we expect a productive cooperation with W. Domino and look forward to a good future for the plant in Ølholm," Westerkamp said.