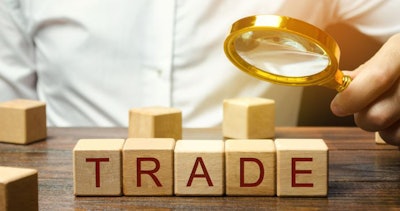 US Trade Representative is the first member of Biden's cabinet to be approved with no opposing votes
The U.S. Senate on March 17 voted unanimously to confirm Katherine Tai as U.S. Trade Representative (USTR). She is the first member of President Joe Biden's cabinet to be approved with no opposing votes.
The National Grain and Feed Association (NGFA), the American Feed Industry Association (AFIA) and the American Farm Bureau Federation (AFBF) congratulated Tai on the confirmation.
"Ambassador Tai is eminently qualified to serve as the U.S. Trade Representative and has demonstrated her deep familiarity with opening foreign markets and reducing barriers for U.S. food and agriculture as well as developing strong bipartisan support for trade agreements," said NGFA President and CEO Mike Seyfert in a statement. "She has the experience and expertise to secure greater market access for U.S. grain, feed and oilseed products and to ensure enforcement of clear and fair rules with our trading partners."
AFIA President and CEO Constance Cullman cited Tai's previous experience.
"Ambassador Tai's experience in the House Ways and Means Committee, along with her previous tenure with the U.S. Trade Representative makes her an excellent choice for this position," Cullman said in a statement. "Her negotiating skills will also be critical for the Biden administration as it works with allies to realize the full benefits of the recently implemented trade agreements, pursue modern agreements with new countries and regions, and ensure that transparency and scientific integrity is at the center of decision-making within international trade bodies.
"In 2020, the animal food industry supported U.S. total exports with $13-billion-worth of feed, feed ingredients and pet food products exports. We pledge to work closely with the USTR to continue providing expertise and guidance that will ensure industry priorities are represented during trade negotiations."
In a statement, AFBF President Zippy Duvall said: "We have a great opportunity to build on existing agreements with China and our North American neighbors, as well as create new opportunities with the European Union and the United Kingdom. Ms. Tai's ability to build bipartisan support for policies and her experience with enforcing fair trade rules will help America's farmers and ranchers compete internationally and continue putting food on tables around the world."
Previously, Tai was chief trade counsel on the House Ways and Means Committee. Prior to that, she served in the USTR's Office of the General Counsel, first as associate general counsel from 2007 to 2011 and then as chief counsel for China trade enforcement with responsibility for the development and litigation of U.S. disputes against China at the World Trade Organization (WTO).
Tai played a significant role in the negotiations leading up to the United States-Mexico-Canada Agreement.
Before joining USTR, Tai worked in the international trade departments in various Washington, D.C., law firms. From 1996 to 1998, she lived and worked in Guangzhou, China, teaching English at Sun Yat-Sen University as a Yale-China Fellow. She is a graduate of Yale University and Harvard Law School.