View Webinar
Watch on demand now to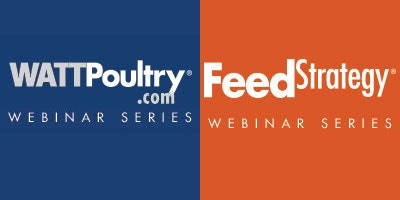 learn the regulatory environment in the U.S. and Europe and what to expect regarding approvals.
Insect meal as a feed ingredient is gaining interest and popularity around the world. However, this novel protein faces regulatory hurdles as well as the human "ick" factor. Entrepreneurs in this segment from around the world will share their experiences in getting their product to market, and experts will discuss the regulatory environment in the U.S. and Europe and what to expect regarding approvals. Featured speakers will include Liz Koutsos, president, Enviroflight, and Chloé Phan Van Phi, head of marketing and sales, InnovaFeed.
WHAT YOU'LL LEARN:
Tips and obstacles for entering the insect protein production sector.
Feed safety considerations and production challenges for feed manufacturers and end users.
Explore the benefits of insect proteins in poultry and livestock diets.
Examine insect meal regulations and the application as a feed ingredient now and in the future.
This webinar is presented by Feed Strategy, WATTPoultry and WATT Global Media.
---
Speaker Info:

Liz Koutsos, president, Enviroflight
Liz Koutsos is the president of EnviroFlight, a company that is pioneering the commercialization of black soldier fly larvae for feed and food applications. EnviroFlight upcycles regionally sourced byproducts into sustainable high-value ingredients to improve plant, animal and human nutrition worldwide. EnviroFlight is wholly owned by Darling Ingredients and opened the first commercial-scale black soldier fly production facility in the U.S. in 2019. Prior to EnviroFlight, Liz was the director of Mazuri Exotic Animal Nutrition, a division of Land O'Lakes/Purina Mills, leading a team to enhance the nutrition and conservation of exotic and endangered animals worldwide, successfully launching the brand into mass retail and e-commerce. Liz joined Mazuri after an appointment on the faculty of the Animal Science Department at California Polytechnic State University, San Luis Obispo, where she managed the Cal Poly Poultry Unit, developed a research lab and MS program and engaged undergraduates in the "Learn By Doing" model. Liz is a graduate of the University of Maryland, College Park with a BS in Animal Science, and the University of California, Davis with an MS and PhD in Nutrition and Immunology. Liz is currently an Adjunct Professor in the Department of Animal Sciences at North Carolina State University, and a Smithsonian Research Associate.

Chloé Phan Van Phi, head of marketing and sales, InnovaFeed
Chloé Phan Van Phi is the head of sales and marketing at InnovaFeed. Her role involves working with all stakeholders in the aquaculture industry to build together sustainable and economically sound value chains. As an example, InnovaFeed partnered with the French retailer Auchan to commercialize the first insect-fed farm trout in the world. Prior to InnovaFeed, Chloé worked as a project leader at Oliver Wyman and at the International Finance Corporation, where she worked on infrastructure projects in Sub-Saharan Africa. She holds a Master of International Affairs from Johns Hopkins SAIS in the U.S. and a Master of Science from the Ecole Polytechnique in France.
View Webinar