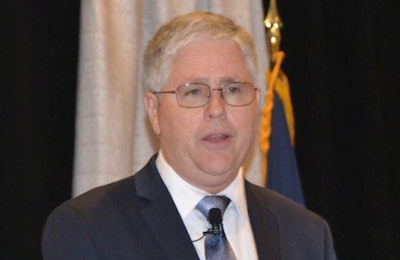 Roy Graber
Agricultural economist Arlan Suderman said he has been surprised that more attention has not been given to the national debt's impact on the agricultural economy, but he says it definitely something that should be on people's minds.
Suderman, chief commodities economist for StoneX, said during the Agricultural Business Council of Kansas City's Ag Outlook Forum, the lack of awareness of the situation has been one of the biggest surprises of 2023, given its magnitude.
"When you look at 14-15 months ago, our interest on our national debt was like $325-350 billion (per year), and now it's approaching $700 billion," he said.
And it's apt to only go up from there. He said the White House Office of Management and Budget (OMB) is projecting it to be closer to $900 billion to $1 trillion per year. Meanwhile, Suderman said, usdebtclock.org said if the U.S. "continues on the same path we're on," annual interest payments will amount to $1.7 trillion per year.
Suderman noted that the last time Fitch downgraded the U.S. government's credit rating, there was a big selloff in the grain and oilseed markets.
While the national debt in general is something that often enters conversations, talk has not translated into action.
"Neither party in Congress has really shown the ability to do much about it, but it is increasing your interest costs," Suderman said.
"It's having an impact on the farm. That increases the cost of storing grain on the farm, and ultimately leads to higher food inflation as well."
Suderman noted that the last debt ceiling agreement expires on January 1, 2025, so he does expect more discussions about it to come soon.
"I anticipate it will probably come to a head right after the '24 elections," he said. "I anticipate it will be dealt with between the elections and January 1 in some way."