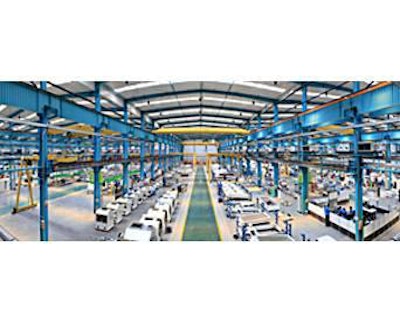 Muyang Group, one of the largest feed machinery manufacturers in China, put its new Yangzhou city, Jiangsu Province, production facility into operation in early May. With an investment of $212 million (RMB1.3 billion), this state-of-the-art facility covers an area of more than 82.3 acres (500 Mu) and features a large research and development facility. According to China's official medium CCTV, the new plant is the largest feed machinery manufacturing base in the world.
For those familiar with the development of China's animal husbandry industry in recent years, an investment of this scale shouldn't come as much of a surprise, but the global market should take notice because it points to emerging trends within China's feed industry.
Demand drives investment
According to the estimation of International Grains Council, global grain production will continue to grow until 2018 when the output of wheat and other coarse grains will surpass 2 billion metric tons, but prices are likely to rise rather than drop unless output exceeds estimations. And due to China's strong demand for feed and feed ingredients, the global grain inventory will have limited room to grow. As more people move to cities and meat consumption increases, the demand for protein requires more feed grains to sustain poultry and livestock. In order to fulfill the demands of the animal husbandry industry — and to ensure consumers have enough food — China's feed industry and producers must increase output. After producing 194 million tons of feed in 2012, China is the largest feed producer in the world. The question is: How will China use its limited resources to continually produce more low-cost, high-quality feed? Feed machinery companies seem to be part of the solution.
"China's feed industry is quickly developing, and the demand for feed products is also increasing, that's why we planned and constructed our new [feed machinery manufacturing] facility," explains Liu Guangdao, vice president of Muyang Group. "We needed to catch up. Feed producers need more efficient equipment to produce more high-quality feed. For that reason we needed to expand."
According to Liu, Muyang experienced a shortage of production capacity at its old facility, but thanks to the new one, it can produce 16 units of feed processing equipment every day by using its pipelining production system.
Quality from technical innovation
Given the challenges it has faced in recent years, the Chinese feed industry is focused on feed safety. Liu explains: "Consumers are growing increasingly concerned with food safety issues, and they have also started to pay attention to the feed safety. We now have the responsibility to help feed producers solve the problem."
Taking aim at feed safety, Muyang made a large investment in its high-tech feed machinery processing equipment.
According to Wang Dong, Muyang Group's vice president and senior engineer, the company uses specialized robots in every sector of its machinery manufacturing, including material processing, painting, assembly and transportation. The welding robots, for examples, weld with extra precision to produce high-quality, efficient equipment which in turn produces better feed.
Furthermore, the new facility introduced a barcoded labeling system, which enhances the traceability of all the feed products produced by Muyang equipment, to improve user confidence.
Machinery delivers cost control
Muyang designs and produces large-scale automatic equipment, which reduces labor and production costs as well as the waste of raw materials, in an effort to aid in cost control for the end user.
"The price of meat doesn't increase as fast as the cost of feed production, resulting in lower profitability for feed producers," says Liu. "We're doing a lot of research at our new facility's R&D center focusing on how to reduce the unit production cost and alternative ingredients usage."
The company manufactures equipment for alternative feed ingredients processing.
"In the past, our extruder could only produce feed with very specific ingredients that were rich in protein, such as fish meal," Liu says. "Now with our new type of extruder, we can also use cassava and even feathermeal. By destroying the peptide bonds inside those alternative ingredients, we can transform the proteins into a form that can be used by animals and human beings."
Muyang's new R&D center allows the company to conduct practical feed production experiments to ensure the quality and safety of the final product.
More concentrated industries
Estimates suggest there are more than 10,000 Chinese feed producers. Many of these companies are small, but this is changing. As the demand from downstream sectors increases and evolves, China's feed industry has become more concentrated, which offers better opportunities for feed machinery manufacturers like Muyang.
According Liu, many large feed producers have set up the "perfect industry chain" and manufacture their own feed formulations. This trend suggests China will have more large producers producing better feed products at larger volumes in the future. As a result, the demand for large scale automatic feed processing equipment will rise.
"This is also our chance," he explains. "Our main target is the large producer and with our new facility put into operation, we're able to offer the equipment to fulfill this demand. Meanwhile, our new logistic center can deliver products in much shorter time, serving them better."
In fact, by using advanced feed processing equipment, large feed producers are able to consolidate their leading position in the industry, further concentrating China's feed industry. From that aspect, a positive cycle between China's feed and feed machinery industries may occur.
"It is quite obvious different feed equipment manufacturers have different customers, reflecting different developmental stages and market positioning," Liu explains. "As large feed producers gradually take the leading position in the market, they are demanding its feed equipment manufacturers offer equipment to fulfill their needs. Viewing from this aspect, the concentration of feed machinery industry is increased by the development of feed industry itself."
Muyang's market share in the domestic market is almost 60 percent.
"We are exporting 50 percent of China's feed equipment," Liu notes.
Targeting the global market
Chinese feed producers are increasingly being seen in the global market. While at first they only sold feed products, these companies have started to construct factories abroad. For feed machinery manufacturers, here lies another chance to grab market share. Muyang started its foreign business quite early — even earlier than some feed producers – and now has business in 102 countries, with 42 agencies and 10 branch companies.
"[Moving business abroad] is a trend for both China's feed and feed machinery industries," Liu explains.
According to the U.N. COMTRADE statistics, China accounts for 10.3 percent of the total value of global feed machinery exports, ranking third only after Germany and Netherlands.
Muyang's new facility will serve in strengthening the company's global strategy.
"According to the plan, our annual output value will reach RMB20 billion by 2015, and exports will count for 50 percent of the total value," says Liu. "This new facility means a lot to our foreign strategy. With better equipment production, foreign customers will have more confidence in the Muyang brand; and once the facility begins mass production, its experience can be used in Muyang's foreign bases and factories."
When talking about global market, Liu thinks it is impossible to avoid trade barriers and market resistance, but he also believes there is chance for cooperation.
"We now have some cooperation with local companies, though it's hard to transfer know-how and technologies directly, but we can still learn from each other and develop side by side," he concludes.
The Muyang Group is an integrated solution provider of plants, equipment and services in the fields of feed manufacturing, grain milling, grain handling and storage, oilseed processing, animal farming, environment protection, food processing, biomass processing, steel structure building as well as industrial automation.
For more information, please visit the company's website, www.muyang.com.