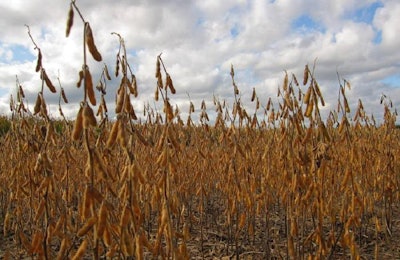 US farmers expect to export record crop, but demand is growing even faster
Despite COVID-19, demand for U.S soybeans has not only continued to grow, but may even see soy exports post a new record by the end of this year. Whether that trend continues may be determined by the weather, officials said during the U.S. Soy Global Trade Exchange on August 25.
Although the breakneck pace of exports to China has slowed somewhat in recent months, the U.S. is still on track to set a record for total soybean exports for the 2020-21 crop by the end of this year, according to Jim Sutter, CEO of the U.S. Soybean Export Council (USSEC). Current projections would also make the current crop the third-largest in U.S. history, Sutter said during the press briefing, despite challenges due to drought in some states.
"U.S. soy is on the cusp of record-breaking productivity," in multiple states including Ohio, Missouri, Alabama, New York and Texas, said Monte Peterson, USSEC board chairman. "But simultaneously, farmers in some states in the west and northern plains face drought.
"I happen to be one of those farmers being impacted by drought this year," Peterson said. "Since planting, we have probably received only 50% of our precipitation, if that, for this growing season."
Sutter expressed optimism that demand for soybeans would continue to grow in the years to come, despite the difficulties the industry faces, including shipping constraints due to COVID, which have contributed to rising soybean prices.
"COVID has shaken things up in transportation markets, and often in the U.S. the fastest growing export is the empty container," said Eric Wenberg, executive director of the Specialty Soya and Grains Alliance. "We need that container stopped and loaded in the U.S."
China may have made the majority of the headlines this year, but Sutter noted that the industry has seen steady demand growth across multiple markets. Aquaculture, he said, is now the fastest-growing protein produced using soy, and demand is rapidly increasing for new biofuels that require soybean oil.
But while growing demand is good news for soy producers, Sutter acknowledged the difficulty price instability has created for soy customers over the past year. He also said he was unsure whether exports could set another record in 2022. The demand is there, he said, but the availability of supply remains a question.
"We came into the year with a fairly large carryout and a got a good crop last year, and have now shipped out carryout from last year and virtually all the crop produced last year," he said, adding that this year, "we know the carryout is smaller, and don't know how big the crop will be in terms of setting a record this year."